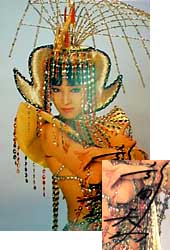 Princess Tenko, with her full evening illusion show and television specials and appearances is one of the best known magicians in Japan.
She is so popular that there is a worldwide, syndicated TV cartoon titled, "Princess Tenko and the Guardians of Magic," with Tenko as the main character.
This special, full-color, coated stock, 11x17 inch poster is the June 1988 issue of the Magic Hands poster series. It was personally autographed by Princess Tenko with a felt tip marker.
It is almost impossible to get an autograph from this international star – this is probably your only opportunity to ever get one.
=== SOLD OUT ===