Delmas W. Jenkins Window Card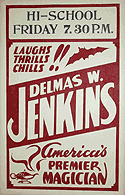 We have no idea who Delmas W. Jenkins is but his attractive promotional window card says he is "America's Premier Magician" and it promises "Laughs - Thrills - Chills!!" The window card is printed in red ink on thick white cardboard which measures 14x22 inches. The top had room for the name of the school or theater where the show would be appearing -- these posters were actually used to promote a show and each has a name of a different location. Most likely these are from the 1940's or 50's. If you have any info on who Jenkins is or was please let us know.
| | |
| --- | --- |
| Delmas W. Jenkins Window Card | US $20.00 |
A division of Meir Yedid Magic — www.mymagic.com
© Copyright 1979-2017 by Meir Yedid. All rights reserved.