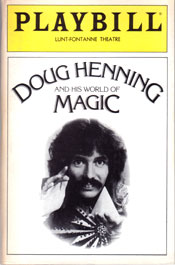 This is an original Playbill from Doug Henning's (May 3, 1947-February 7, 2000) third Broadway show, "Doug Henning And His World Of Magic," which ran at the Lunt-Fontanne Theatre in New York City. The show opened on December 11, 1984 and ran through January 27, 1985 with a total of 60 performances. This Playbill is dated December 17, 1984. The program contains photos and a biography of Doug Henning in addition to a brief biography of Debby Henning. Magicians who are given credit in the program are:
Head Illusion Engineer & Additional Illusions Constructed by: Jim Steinmeyer (although this program mis-credits him as the Music Designer).

Illusions Designed & Constructed by: John Gaughan

Magical Consultant: Charles Reynolds

Special Magical Thanks to: Michael Ammar, Richiardi, Jr. (for floating kiddie car concept), Arthur Rubinstein, Lance Seldin, Slydini, and Dai Vernon.
The Playbill is a 120-page, saddle stitched, 6x9 inch program with five black and white photos of Doug Henning and around eight pages about the show. Good condition.
===SOLD OUT===