Blackstone Magic Show Program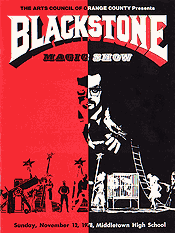 This is an original program for the "Blackstone Magic Show" starring Harry Blackstone, Jr. The show was staged on Sunday November 12, 1978 for "The Arts Council Of Orange County." The beautiful red, black and white cover is suitable for framing.
The program contains biographies of Harry Blackstone, Jr. and of Gay Blackstone. Credits of note include: Les Smith, John Gaughan, (illusion designers), Robert Harbin, Charles Reynolds, Dick Zimmerman (creative assistants), Horace Marshall, Abbott's Magic, Gertrude Smith (flowers), David Belenzon (general manager), and Jules Fisher Associates (lighting design). Most interesting is a complete listing of all the routines and in what order they appear in the show.
It is a 12-page, saddle stitched, 9x12 inch program with four pages about the Blackstone show. Mint condition.
===SOLD OUT===
Blackstone! Playbill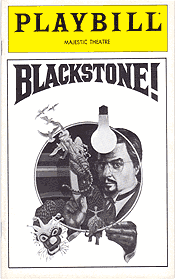 This is an original Playbill from Harry Blackstone Jr.'s (June 30, 1934 - May 14, 1997) Broadway show, "Blackstone! The Magnificent Musical Magic Show," which ran at the Majestic Theatre in New York City. The show opened on May 19, 1980 and ran through August 17, 1980 with 104 performances. This program is from July 1980. The program contains photos and biographies of Harry Blackstone, Gay Blackstone, and Charles Reynolds. There is also an ad from Louis Tannen Inc., a listing of all the magic segments, and a magic trick is taught. Magicians given credit in the program include: Bill Smith, Les Smith, John Gaughan, Bill Schmeelk, Robert Harbin, Dick Zimmerman, Pete Bouton, and Harry Blackstone, Sr.
The Playbill is a 52-page, saddle stitched, 6x9 inch program with eight black and white photos of Harry Blackstone, Jr. and around ten pages about the show. Good condition.
===SOLD OUT===
Blackstone Promotional Trick Set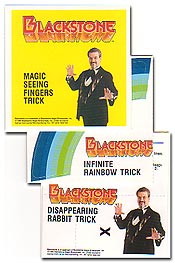 This is a set of three different magic tricks that were used as a promotion. The three tricks are: "Magic Seeing Finger Trick," "Infinite Rainbow Trick," and "Disappearing Rabbit Trick." Each trick is self-contained on a 3" x 3" piece of cardboard that folds open and features a color portrait of Blackstone. To do each trick you would have to punch out the objects and use them as props.
=SOLD OUT=
A division of Meir Yedid Magic — www.mymagic.com
© Copyright 1979-2017 by Meir Yedid. All rights reserved.