Chianty Imp Bottle (Chianty - Fläschchen)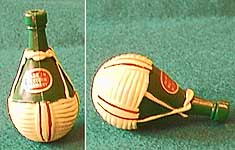 Perhaps the most normal looking Imp Bottle ever made.

A two-inch high, hard plastic, miniature Imp Bottle, made to look like a Chianty bottle in green, yellow and red. It was made in the 1960s (I believe) and has a red and gold sticker which is stamped "Made In Western Germany."

The effect, if you are not familiar with it, is: You can make the bottle lay on its side while everyone else cannot. Comes factory sealed with English and German instructions.

= SOLD OUT =
3 in 1 Nickel Disappearing Trick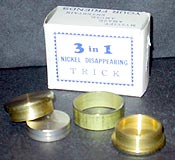 Not sure who manufactured this -- it is the classic nickels to dimes trick which was probably manufactured in the 1930s-1960s. Comes in it's original packaging and includes the two caps, bang ring, nickel gimmick (all appear to be made of brass) and a small sheet of instructions. Box and instructions yellowed from age.

The box description:
Comes in a small white box with blue lettering which says: "3 in 1 Nickel Disappearing Trick. Mystify, Amaze, Amuse, Entertain Your Friends." The price printed on the box is $2.00 (which is scratched out). There is no effect description on the box or in the instructions -- it does tell you how it "operates."

= SOLD OUT =
Card That Changes To A Match Box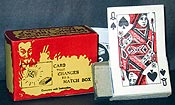 Not sure who manufactured this -- it is a standard slum item in a red and yellow box which is stamped with the name of the trick. Comes in it's original packaging and includes a printed card glued to the back of an "Ohio Blue Tip Matches" box (which might eventually be worth more than the trick) and a small sheet of instructions with four illustrations. Probably from the 1950s.

The effect as described on the box:
Actually there is no effect description because the title takes care of that. But the box does say, "Master Magic Tricks and Puzzles. World's Famous Magic Tricks. Tricks that are simple enough so that a child can master them. Perplexing enough to interest the grown-ups."
| | |
| --- | --- |
| Card That Changes To A Match Box | US $7.50 |
A division of Meir Yedid Magic — www.mymagic.com
© Copyright 1979-2017 by Meir Yedid. All rights reserved.